Floor Standing Water Cooler Hire
Specialists in floor standing water dispenser solutions
Floor Standing Water Coolers & Dispensers
Quality floor standing office water coolers
Provide the highest quality water with our robust, yet stylish mains-fed floor standing coolers. We will recommend the most suitable model to match the demands of your situation.
All of our equipment is delivered and installed by our own technicians and is fitted with Brita filtration to reduce limescale in your water and reduce taste-impairing substances like chlorine or chlorine compounds.
We will regularly sanitise your water cooler and replace filters at appropriate intervals.
Floor Standing Plumbed Water Cooler
Keep your employees or clients hydrated with this high capacity plumbed water cooler. It features HygieneGuard Tap Protection to reduce hand to tap bacterial contamination. Offered in anthracite with silver livery, with an optional cup dispenser, this model will perform reliably even in high demand environments.
Full details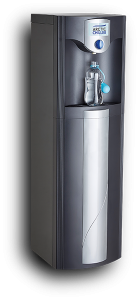 Floor Standing WC & Coffee Pod
Ideal for the small workplace, and where space is limited, this two in one machine offers a cost- effective solution.
Full details