Coffee Vending Machine Company
Specialists in coffee vending machine solutions
Coffee Vending Machines
Floor standing & table top coffee vending machines
When it comes to selecting the right coffee machine for your needs, we take time to find out understand the problem you are trying to solve and then recommend a solution which will best meet your needs.
We offer a comprehensive range of equipment suitable for large and small workplaces, and all types of catering establishment.
Your coffee vending machine will be installed and fully configured by our own staff. Full training is given, and our ongoing responsive service will provide complete peace of mind.
Floor Standing
Not only are these machines good-looking, they are also robust, incredibly reliable and fun to use.
Ultimate features include touch screens, back lit buttons and a video display, which can be configured to run bespoke images.
All provide a large capacity and smooth delivery of barista-style drinks, consumers can enjoy the very best that vending has to offer.
Couple this with our cashless payment system to ensure that no-one is ever short of change to buy a drink.
Why not let Westways manage your vending requirements with our fully managed vending service?
View floor standing machines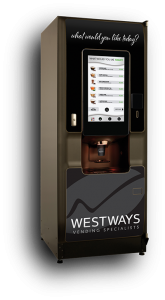 Table top
Tabletop machines come in numerous configurations to meet an equally numerous set of customer demands such as size, capacity and speed of delivery.
Housing can be created to surround larger models to create a coffee station, with a payment system, whilst others can be fitted to a base cabinet to create a free-standing unit.
View table top machines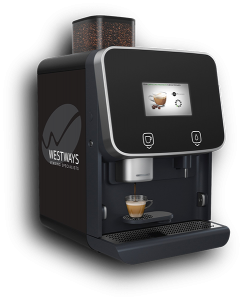 Coffee Pod Systems
Our coffee pod systems brew a perfect cup of coffee, tea or hot chocolate in less than a minute, at the touch of a button.
It's the ideal office coffee machine, and is great for small hospital locations such as waiting rooms, as each cup is freshly made.
These coffee capsule machines deliver a wide range of branded drinks.
No mess
No wasted ingredients
Convenient and cost effective
View coffee pod systems